Although Green Crack is known as a synthetic name, there's nothing artificial about this natural and environmentally friendly plant. Once you've felt the energetic and happy high it provides, however, you'll be wanting more. This strain won't cause you to fall asleep; instead, it has a pleasant comedown period as well. When you need a little boost to get through the day, Green Crack is ideal for morning or daytime use.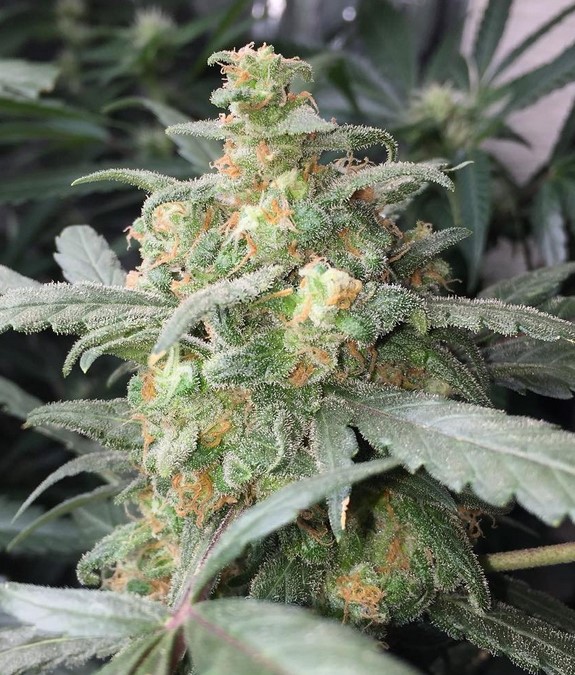 Snoop Dogg is said to have renamed this strain "Green Crack" because it helps people control their appetites. Another tale maintains that the musician gave the name because of the drug's high. Green Crack, on the other hand, has no ties to illicit drugs.
The term "Lemon Haze" is a reference to its citrus flavor, which comes through in the aroma and taste. This strain has been called "the couch killer" because it never makes you feel jittery or overcharged, even though it is stimulating and exciting. It's a great daytime strain for people who need a little boost to get through a long day.
What Is the Green Crack Strain?
There are two major types of Green Crack available in the medical and recreational cannabis industries. The most popular variety is a sativa-dominant variant recognized for waking up users.
The second version of the strain, which is less popular, is an indica-dominant variety. It typically has a tighter bud structure, which can help you separate it from the other version.
For the record, most dispensaries and recreational pot shops sell the sativa variation of Green Crack.
This review focuses on the sativa-dominant version of Green Crack, which is believed to have originated from a cross of Sweet Leaf Indica and Skunk No. 1. It contains a reasonable level of THC, though less than some of the newer hybrids on the market.
Thankfully, Green Crack doesn't need massive THC content to get you going and leave an impact. Rather, its effects will last long enough but won't impact you so strongly that you become utterly dysfunctional. Instead, expect to go through the day as normal but with extra energy.
Aroma
Green Crack immediately hits you with a citrusy and fruity aroma, yet this strain also contains an earthy, woodsy, and hearty nuance.
Flavor
Its flavor is sweet, with some phenotypes expressing a stronger fruit or citrus taste than others. Some users say Green Crack tastes akin to a juicy, ripe mango. Expect to feel a tang on your tongue long after that first smoke is gone, leaving your palate satisfied, but wanting more.
Appearance
Green Crack weed has greenish-yellow buds, with crops grown in colder conditions expressing hints of purple throughout. The pistils are a rusty red or orange, reaching out from between the ultra-sticky and glistening buds that remind its consumer of diamond rings in a display window.
Green Crack Grow Info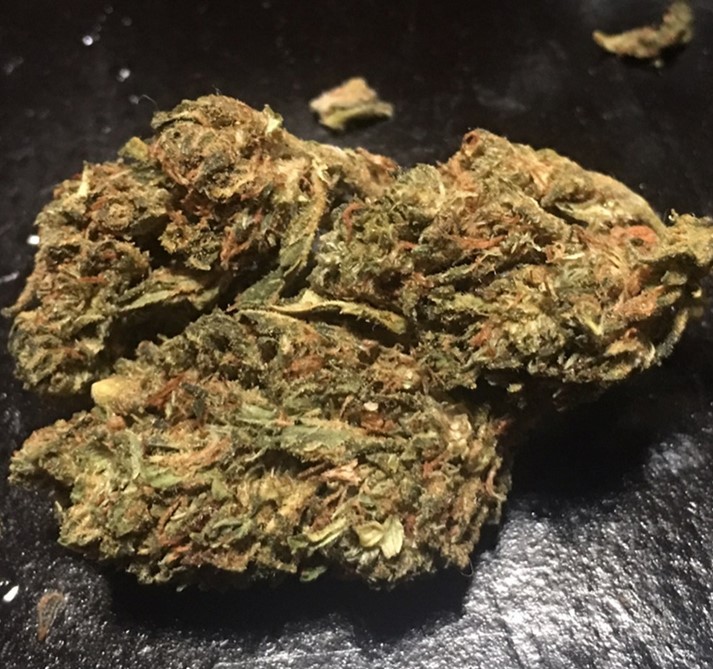 This strain is suitable for growers of differing experience levels. It is even appropriate for novice cultivators longing for a one plant experiment in their closet or backyard space. But while it is fairly easy to grow, it may not satisfy those looking for ultra-high THC content.
Green Crack is suitable for growing either indoors or outdoors. If grown outdoors, this strain thrives best in a Mediterranean climate, with extremely sunny conditions and lowish humidity. When growing Green Crack indoors, keeping humidity levels to a minimum is important. This strain is quite susceptible to powdery mildew, which could easily ruin an entire crop in the blink of an eye.
The 70–80-degree (Fahrenheit) range is ideal for cultivating this crop, and it seems to thrive with a variety of growing methods, including hydroponics and soil. You can expect the crops to reach about 3-4 feet in height, with outdoor grown plants yielding around 20 ounces per plant and indoor-grown plants yielding around 18 ounces per square meter.
The flowering period is around 7-9 weeks, with crops grown outdoors becoming ready for harvest in late September or early October.
Medical Benefits of the Green Crack Strain
Green Crack isn't generally suitable for individuals with serious medical conditions. However, it can assist those who are fatigued, depressed, anxious, stressed, or exhausted. Its strong sativa effects are great for getting you going, no matter what your day looks like.
Those planning on utilizing the Green Crack strain to help with mental health issues such as depression, anxiety, and stress, must use it with caution. Over-consuming any strain of marijuana when dealing with a mental condition can lead to adverse effects, such as increased paranoia, stress, or anxiety. Know your limits with cannabis, and always consume it responsibly.
Possible Side Effects of the Green Crack Strain
Overall, the most commonly reported side effect of Green Crack weed is dry mouth. This is easily manageable by drinking plenty of hydrating fluids before, after, and during the consumption of this marijuana strain. Users also report experiencing dry eyes, paranoia, and occasional dizziness, although these side effects are rare.
It is best not to consume Green Crack late at night. Due to its heavy sativa effects, late-night usage could cause insomnia and restlessness.
Final Thoughts on the Green Crack Strain
Overall, Green Crack remains a highly popular strain with MMJ patients. It has a lower THC content than many new hybrids, meaning it is less likely to overwhelm users. However, it is still potent enough to warrant respect, so use it sensibly and cautiously, particularly if you have a moderate to low THC tolerance.
Green Crack is also fairly simple to cultivate and serves as a useful strain for novice growers. It is resistant to most diseases and provides a reasonable yield.